Powerflush - Uxbridge Boilers
Uxbridge Boilers offers powerflush services in Uxbridge and west London. We use a Kamco CF30 powerflush machine, and most of the chemicals are from by Kamco too.
Kamco (www.kamco.co.uk) is located in St Albans. It is the number one company for powerflush equipment and chemicals in the UK.
The term powerflush has been abused by some heating engineers!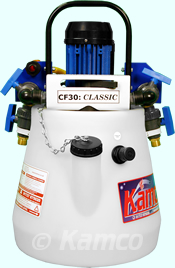 Some heating engineers are struggling in their boiler and heating breakdown diagnoses, as such they are more installers rather than boiler repair engineers. Once they can't figure out what is wrong with the circulation in a heating system, they often revert to using a powerflush.
A circulation problem can be a bit complicated, perhaps caused by the boiler itself (diverter valve or filter etc), by the circulation pump or by system design etc, but it is not always necessarily by a sludge related blockage.
British Gas is famous on suggesting powerflush to their customers, and engineers from boiler manufacturers are also willing to suggest powerflush, for obvious reasons.
Should I have a powerflush?
In the mojority of cases, a heating system failure is only due to one factor, either the boiler, or a motorised valve or a pump etc. If someone says to you "We will do a powerflush first then we will go from there", it is likely he or she has no clue about your repair, so the guessing game starts.
An assessment of powerflush requirements

As we are a boiler and heating repair specialist, we will try our best to identify the real problem in your system. If it is in your boiler, we are in a better position to get it fixed.
In our experience, we have overturned more than half of the powerflush suggestions from other engineers, and we fixed these problems without doing powerflushes.
Powerflush on boilers
A blockage sometimes does happen inside the boiler, for instance, at main heat exchangers, at the diverter valves or at the hot water heat exchangers.
Once we do a powerflush, we will also flush the boiler, in this way we get both the external pipes / radiators and the internal hydraulic path of the boiler cleaned.
No fix no fee for our powerflush service
We are a boiler and heating repair specialist. After a powerflush, we will also inspect, and repair if necessary, the boiler and heating system. Unless stated otherwise, we will extend our powerflush service to correct some underlying defects without any extra charges.
During each powerflush, we will also: 1. clean the head cistern in the loft and its cold feed pipe. 2. flush each radiator solely, by closing all others.
We always offer a "no fix no fee" policy, even on powerflush services. Our powerflush price starts from £700.
Warranty on our powerflush service

We give a one year warranty on all of our powerflush jobs for heating performance. A powerflush certificate is also provided if required - for example, for insurance purpose.
We cover any leak repairs on the day of the powerflush.