Commercial Catering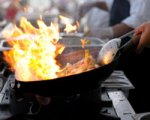 In our opinion, commercial catering gas is the most neglected area in the gas industry. Some shocking installations are out there for various reasons, and a significant amount of outdated appliances are still in use. We have connections with Chinese takeaways and restaurants in this country, and we are experienced in commercial catering gas - from installation, to maintenance and to inspection.
We don't overkill, and we don't overlook any defects.
Nominal documents for commercial catering gas
British Standards BS6173 (2009)
IGEM/UP/2, IGEM/UP/19, IGE/UP/10, IGEM/UP/1B or IGEM/UP/1A
HSE CIS No. 3, 10, 17 and 23
BESA (former HVCA) publication DW/172
Gas Safe Register TB140
Common failed areas in a commercial catering inspection
Make up air must be from a permanent source (an opening or a mechanical fan) direct from outside and the vents should be not closable. Openable doors or windows are not counted for acceptable vents.
Emergency gas cut off is required for all commercial catering kitchens - it can either be a manual shut off valve, or an automatic interlock.
Gas leaks are easily found in frequently-used gas appliances, particularly on appliance isolation valves. They need to be replaced.
Enclosed burners without FSD (flame supervision device) can still be found on old ovens. They are not allowed any more.
Common suggested areas in a commercial catering inspection
Interlock, or manual emergency shut off valve.
Appliance servicing, and leaking valves replacement
Safety procedures
The charges for commercial catering inspection
We have a callout charge for all commercial catering gas safety visits, and the current rate is £90 + VAT per visit. This is a callout charge. Please don't confuse it with a whole inspection charge, which is from £250 + VAT for a takeaway and from £300 + VAT for a restaurant.
Based on our catering safety inspection experience, more than half of the catering kitchens will fail on our first visit, i.e. you might not be able to get an full inspection done on most first visits. We can't do work for free, so a callout charge for any London catering business is a must.
Once you organise for some remedial work to be carried out as suggested during our first visit, we are more than happy to attend again for a formal inspection. If the installatin is passed the safety inspection, you will get these two certificates: