Uxbridge Boiler Repairs
- Uxbridge Boilers
For Uxbridge and West London
We offer boiler repair services in Uxbridge and West London.
No call out charges to local areas (10 mile radius weekday daytime only)
95% fixed rate and no fix no fee
The highest first time fix rate and commit to fix your boiler the same day
Only one failed part replaced in most cases
Transparent on material costs and labour charges
Guaranteed repair work for one year
The highest Google review number and the best Google review score
It is much more difficult to repair boilers than install boilers. We are specialised in boiler repairs as to we re-lighted over a thousand of boilers each year.
Being Gas Safe Registered is no guarantee of carrying out competent repairs!
Four out of ten heating engineers "failed to do their job properly" and recommended "unnecessary work" to their customers, according to a undercover test carried out by Which? magazine on boiler repairs in 2011.
It is a sad to say more than half of registered gas engineers are incompetent on boiler repairs. When a customer called such an engineer in, once he finds out the problem is not as simple as to top up water by a filling loop or replace a fuse, will he admit he can't do the repair? Most likely he will use following excuses to persuade you go for a new boiler which he think he will take the installation from you:
Boiler is too old to repair and its parts are obsolete
Boiler will breakdown again soon
Boiler is unsafe to run
Boiler is a low efficiency type
Although some boilers have indeed parts that are obsolete but they are quite rare. If we leave out the very old ones, and old for a boiler is 20 to 30 years or sometimes more, there are precious few with spares problems. More than 95% of the boilers that are currently in use still have most of the parts available. In other words the chances that you really need a new boiler for that reason are less than 1 in 20.
It is quite possible that your boiler is old and suffers from various problems. Rather than to keep repairing, it would be cheaper in the long run to replace it now. The big difference is that you don't need a new boiler, and it is your choice to replace it or have it repaired.
A condemned boiler is the same. In itself, it just means that the boiler does not meet the required standards at that moment. Sometimes all it needs is a good clean out. Sometimes it is no more than a simple gas safety device that is prone to wear and tear, and therefore has to be replaced periodically.
Any boiler that was approved for use on mains gas (also called sea-gas or natural gas) and properly installed at any point in the past, can legally be repaired as long as the safe working can be assured. No central heating gas appliance has to be replaced simply because it is old or outdated.
Why should you choose us to repair your boiler?
To repair modern boilers engineers are supposed to have more than gas safety level knowledge. Here is a suggestion list by an experienced boiler breakdown engineer in the Combustion Chamber forum:
A degree in electronic engineering.
An understanding of how the boiler is actually doing what it does normally.
Years of doing my own car maintenance.
Common sense.
Then ring manufacture technical support if stuck. They are supposed to know their own boilers best and most likely better than we will.
Modern boilers are electronic equipment, a plumber based gas operative is not always able to fully understand the sequence of such a boiler, to have skills to go down the failed parts, therefore to repair them. But by law, only Gas Safe registered engineers are allowed to work on boilers, so boiler repair industry, in our honest opinion, are problematic.
Fortunately we are well qualified for boiler repairs, and we also have had experience on boiler repairs. The key engineer of the company is from engineering background with degrees in science and technology.
As NICEIC registered electricians we are also in a favorite position to understand the principles of boiler operation, especially on electrics and controls inside modern boilers.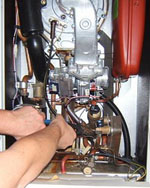 You can choose whether you just want us to just diagnose the problem, or correct it too. Some of the faults are hard to find, but easy to sort out once it is clear where the problem stems from. For those that feel they are up to the job, we are more than happy to do the diagnosis only and get paid for that, and then leave the rest to them.

Where possible, we give you the choice between the minimum that is absolutely to get the central heating or hot water going again, and what is needed to make it reliable in the long term. Sometimes it is just not worth doing a lot of work to gain long term benefits. If you know you are going to move next year, have building works done or a number of other reasons, you may only want something that will last you until then.
If you have any boiler related problems please do not hesitate to contact us. Do remember to let us know your boiler make and model, or better with a GC (Gas Council) number which is in this format: 41-567-02.
What is the likely cost to repair a boiler by us?
By theory of probability, nine out of ten breaking down boilers actually only have one part failed on each. It is unusual that two or three parts in a boiler went wrong together. We will find out the only faulty part on your breaking down boiler and give you the price on site to let you decide.
With recent development of online heating parts shops we can show parts prices on site. So we are transparent on all charges.
A typical boiler repair procedure:
We turn up with no call out charge at weekday daytime in local areas, we even turn up at an evening or weekend by a pre-arranged appointment free of charge.
If we can fix the boiler immediately on site, whenever it takes one hour or more, we will charge you a flat rate fee of £70 plus parts if incurred. One off visit repairs count about 30% cases in total.
If it is a case that a customer doesn't know how to use the boiler or system, we will expect to charge £70 after we explain the operation procedure to the customer.
If we diagnose a problem, but don't have parts with us which is about 60% chance we will let you know what is wrong and how much to fix it by coming back with parts and labour cost. We will let you decide if you want to go ahead with repairing by us.
If agreed with the parts and labour cost, we will buy the parts at our expense from a local boiler spares supplier, and come back with repairing. We adopt "no fix no fee policy" (not for some intermittent breakdown), after the boiler is up and running we collect the payment agreed before. In a unlikely situation if we can not fix the boiler at the end we will not charge you a penny.
We will give one year warranty for the parts we replaced.
We should always let you know any charge in advance and let you decide if go ahead.
Beyond economic repairs
Herts Boilers are specialised in boiler repairs, but sometimes we consider a boiler beyond economic repair if the cost of the repair is unrealistically high compared to the life expectancy of the boiler. As a rule of thumb £150 should give the boiler at least another year of life.
Occasionally, we find a situation where the boilers is in a really bad state and we can reasonably expect to have to keep patching it up on a regular basis. If that is the case, We will also tell you what you can expect. It is then your choice whether you take your chances and hope for the best, or decide to avoid more unpleasant surprises and opt for reliability. We do not believe in replacing one problem with another, and only use high quality models for replacement if that is what the client wants.
Turn your immersion heater on for hot water while waiting for boiler being fixed
There are four major heating / hot water systems in this country:
1. Vented or open vented system (head cisterns in loft space)
2. Combi boiler system
3. Un-vented system (Megaflow, with a pressure gauge on heating)
4. Thermal stores (Powermax or Gledhill cyinders)
If it is a combi boiler, you have to wait for the boiler to be fixed to supply hot water again.
But if your home has one of other three systems, you might have an electrical element called "immersion heater" to heat up hot water inside your hot water cylinder or thermal store, which will give you hot water but no central heating.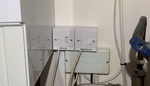 The left picture is a typical immersion heater switch. It is usually off, so you need to switch it on for hot water backup.
There are three reasons for immersion heaters only being used while you have a boiler breakdown: 1. electrical price is expensive than gas. 2. immersion heaters are less powerful than gas boilers. And 3. you don't want your boiler pump or fan seized after a whole summer.